Sabrina Garland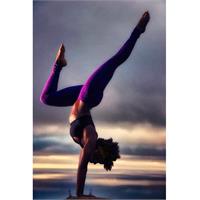 Sabrina's journey started in High School in 2001 when she was told it
would help her with her ADHD. She opted to replace PE with Iyengar
Yoga. After two years of attending the Ann Arbor School of Yoga she realized that she needed the calm and focus that the physical practice brought into her life and she continued to seek different styles of yoga after graduating High School. She began teacher training in 2009 after moving to San Diego, CA. from Michigan. Now, she enjoys teaching a variety of yoga styles. Every style that she teaches has a core of alignment, breath and flow. Sabrina believes that any level of student should feel uplifted and empowered by practicing yoga and she works towards making yoga a benefit for everyone! She enjoys teaching because she loves seeing the ongoing transformation in students and in herself; she is always looking for growth, contribution and a chance to learn something new. She found that it is in the present connection we have with our environment that weaves compassion into our practice
and lives.
Sabrina Garland instructs the following:
This class is about passive postural holds to increase blood circulation as well as flexibility while allowing the mind to dive deeper in a more meditative state, cultivating silence and peace of mind. It's time to release physical, mental, and emotional stress and compliment your power vinyasa practice.




Join us for this amazing flow that will leave you inspired. All levels welcome. Enjoy the the true meaning of Vinyasa; tap into the breath/movement and find a new level of motivation.