Martine Whisenhunt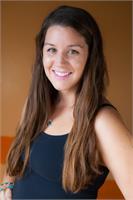 Martine's yoga journey began at the age of 18. Years of competitive sports led her to try something a little bit different. After her first class on the mat, she fell in love with both the physical and spiritual benefits of yoga. Martine moved to San Diego to obtain a degree in International Economics and now works as a full time yoga teacher for both adults and children. Martine has first hand experience in the healing powers of this yoga practice and wants to share her passion with her students. Her classes are grounding, empowering, and above all fun because you can never take yoga too seriously.
Martine Whisenhunt instructs the following:
Start your weekday morning off right. This class is for all levels that focuses on building strength, flexibility and relaxation while finding inspiration.




Join us for this amazing flow that will leave you inspired. All levels welcome. Enjoy the the true meaning of Vinyasa; tap into the breath/movement and find a new level of motivation.