Meredith Hatton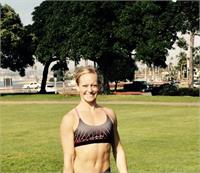 Meredith is an east coast native who began her yoga journey almost five years ago. Originally drawn to class for the physical benefits, Meredith found a passion for the challenging postures. She was soon immersed in the many mental and emotional benefits of practice as well. After relocating to San Diego, she has adopted yoga as not only a hobby but a lifestyle as well. Meredith has a Bacholer's degree in Food Science and Nutrition and is 200 RYT certified. She hopes to share her passion and inspiration with all her students.
Meredith Hatton instructs the following:
This class is designed for students who have progressed past beginning basics. Vinyasa 1 introduces more core-strengthening postures with an increase in transition speed and room temperature.




This class is for all levels that focuses on building strength, flexibility and relaxation while finding inspiration.




Join us for this amazing flow that will leave you inspired. All levels welcome. Enjoy the the true meaning of Vinyasa; tap into the breath/movement and find a new level of motivation.




This class is about passive postural holds to increase blood circulation as well as flexibility while allowing the mind to dive deeper in a more meditative state, cultivating silence and peace of mind. It's time to release physical, mental, and emotional stress and compliment your power vinyasa practice.