Olivia Sylvestro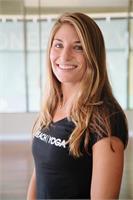 Originally from Connecticut, life took Olivia out West after graduating from undergrad in upstate New York. Olivia was a gymnast for 18 years, so exercising and leading a healthy lifestyle has always been a passion of hers. After retiring from gymnastics, she began searching for something to fill that void, and that is when she found yoga. Yoga started out for Olivia as something she did on occasion and then quickly turned into an activity she did everyday. She feels very honored to both deepen her practice everyday, as well as, teach what she has learned to her own students. For Olivia, yoga is so much more than what she practices on the mat, it's the mindfulness, the presence and the positivity of being surrounded by like-minded people that keeps Olivia always returning to her mat.
Olivia Sylvestro instructs the following:
Join us for this amazing flow that will leave you inspired. All levels welcome. Enjoy the the true meaning of Vinyasa; tap into the breath/movement and find a new level of motivation.




This class is designed for students who have progressed past beginning basics. Vinyasa 1 introduces more core-strengthening postures with an increase in transition speed and room temperature.