Kristi Sobol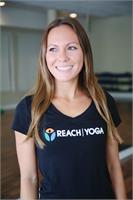 Born and raised in Southern California, Kristi has always been a water sports enthusiast, spending her time surfing, snorkeling, and scuba diving. Kristi originally became interested in yoga as a way to supplement these activities through increased flexibility, stronger core muscles, better breathing, and improved balance. Kristi fell in love with yoga because it allowed her body, mind, and spirit to tap into a natural flow and rhythm, much like the patterns of the ocean. Kristi enrolled in teacher training to deepen her yoga practice, but quickly found her voice as a teacher. Kristi hopes to teach her students the transformative qualities of yoga and how every lesson learned on the mat is applicable to daily life.
Kristi Sobol instructs the following:
Join us for this amazing flow that will leave you inspired. All levels welcome. Enjoy the the true meaning of Vinyasa; tap into the breath/movement and find a new level of motivation.




This intermediate level class, while still challenging, promotes relaxation. It provides the opportunity to broaden your strength and focus in a blissful environment and encourages you to move at your own pace and be kind to your body.